Inside LES Ready!: COVID-19 Update #12
NEXT MEETING
MIDDLE COLLEGIATE CHURCH
COVID-19 MANHATTAN TEST & TRACING SITES
COVID-19 CITYWIDE TEST & TRACING SITES
VACCINE UPDATES – WHEN & WHERE TO GET VACCINATED
MAYOR'S OFFICE TO PROTECT TENANTS
OTHER RESOURCES
Next Meeting: Thursday, December 17th, 11am
"COVID-19: The Science & NYC Vaccine Distribution"
For more information, email lesreadyinfo@gmail.com
Middle Collegiate Church
Longtime LES Ready! members needs your Love & Support now!
We are devastated and crushed that our beloved, historic sanctuary at Middle Collegiate Church has burned, compromising our entire physical plant. And yet no fire can stop Revolutionary Love. In fact, our two sanctuary signs—Just Love and Black Lives Matter—remain firmly attached to our scorched stone facade. A raging fire can't destroy our values; and even as we grieve, we have faith that out of the ashes, something powerful is rising.
We feel it in the outpouring of love we've received from all over the globe; you've claimed Middle as YOUR church, and we thank you!! Please know the fire hasn't slowed us down. Our ministries and programs have actually grown in this time of COVID-19. Digital worship; small groups for connecting, learning, and serving God's people; trainings and our annual conference; justice and voting rights projects; care and financial support for the most vulnerable in our communities—all of these ministries, along with the staff and infrastructure that make them happen are supported by donations. Now, we must also replace what was lost in the fire and rebuild our beautiful space.
You've asked what you can do to help. Though the fire gutted us physically and emotionally, we will rise up, with your kind support. To help us, please donate below.
To spread the word about our church, invite others to please share this Rebuild Middle Church video in your networks. If you would like to speak to someone about additional funding opportunities, email Geminesse Johnson.
COVID-19 Manhattan Test & Tracing Sites
COVID-19 City-wide Test & Tracing Sites
COVID 19 Update Page – Walk in only – Click here.
COVID 19 TEST – Appointment necessary – Click here.
COVID-19 Vaccine Updates
When and Where to Get Vaccinated
COVID-19 vaccines may not be widely available to the general public until mid-2021.
The vaccine will be offered first to people who work in health care and are at increased risk of getting COVID-19. This includes people who take care of COVID-19 patients or work in areas of a facility where COVID-19 patients are seen.
The vaccine will also be made available to nursing home residents and staff.
The vaccine may next be available to the following groups:
Essential workers who interact with the public and who are not able to physically distance
People at high risk of complications from COVID-19 because of age or underlying medical conditions
When there are enough vaccine doses available, it will be made available to all New Yorkers.
You will likely be able to get the vaccine at the same places you usually get vaccines, such as:
Your health care provider
Community and hospital clinics
Pharmacies
Urgent care centers
Some COVID-19 testing sites and community pop-up locations may also provide vaccinations.
The vaccines currently in trials have not yet been studied in children younger than 16. They will not be available to that age group until more information is available.
Full NYC Department of Health & Mental Hygiene Vaccine Page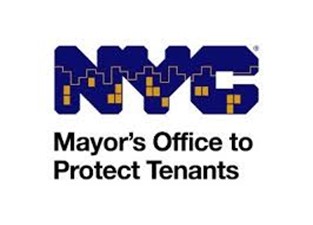 Resources are available to you if you are a tenant in New York City and are facing hardship due to COVID-19. If you have questions or need assistance, the City is here to help. Contact the Mayor's Office to Protect Tenants or the City's Tenant Helpline (which can provide free advice and legal counsel to tenants) by calling 311 or filling out the Contact Us form. Additionally, you can text 'COVID' to 692-692 to receive important COVID-19 related updates sent straight to your phone. You can text 'COVIDESP' for updates in Spanish.
The Tenant Portal features an eviction prevention tool to help renters navigate free public and private resources that can stabilize their housing situations. The portal is free and accessible to all residential tenants. Tenants will respond to a series of questions about their unique circumstances and be directed to the most relevant resources, such as help navigating an illegal lockout or eviction. The portal also has up-to-date information on the general status of evictions in New York City Housing Court. Tenants who do not have access to the internet can call 311 and ask for the "Tenant Helpline," which was launched in partnership with 311 and HRA's Office of Civil Justice (OCJ) in April of this year, where they will be connected to a PEU Tenant Support Specialist to receive free, individualized assistance.
Visit the NYC Tenant Resource Portal The fact sheet into 12 different languages: English, Spanish/Español, Chinese (Traditional)/繁體中文, Chinese (Simplified)/简体中文, Russian/Русский, Arabic/العربية, Haitian Creole/Kreyòl Ayisyen, Korean/한국어, Bengali/ বাংলা, Urdu/اردو, Polish/Polski, French/Français
FOOD PANTRIES AND SOUP KITCHENS
*Please call in advance to confirm hours/days
Father's Heart Ministries (pantry and soup kitchen)
545 East 11th Street
212-375-1765
Saturdays 8:30AM to 11AM
The Meatloaf Kitchen (soup kitchen)
137 2nd Street
(347) 850-2230
Doing breakfast from 9am to 11am and lunch from 12:30pm to 2:30pm. (3/20)
St. Joseph House (soup kitchen)
36 East 1st Street
(212) 254-1640
Soup kitchen: Monday – Friday: 9:30am – 11:00 am.
Trinity Church Lower East Side (soup kitchen and food pantry)
602 East 9th Street
(212) 228-5254
Mondays through Fridays 11:00 AM – 12:00 PM (soup kitchen)
Monday – Friday 12:30 PM – 1:30 PM (Food Pantry) – Appointment Needed
Temple Soup Kitchen
33 East 12th Street
(212) 674-2340
Saturdays from 2:30 pm and 4:00pm
The Bowery Mission (soup kitchen)
227 Bowery
(212) 674-3456
Serving meals 3 times a day. To-go breakfast 9 to 10am, lunch 1 to 2pm and, dinner 6-7pm
Nazareth Housing (food pantry)
206 East 4th St. (blue door)
212-777-1010
Tuesdays at 10AM
Most Holy Redeemer Church (Food pantry)
173 E 3rd St
(212) 673-4224
Every other Wednesday 10a to 11a
Dewitt Church (food pantry)
280 Rivington St
(212) 674-3341
Mondays and Thursdays 10:00am – 1:00pm
Interfaith Church
325 East 5th St
(352) 213-9020
Middle Collegiate Church (Food pantry and soup kitchen)
50 E 7th Street
(212) 477-0666
Wednesdays 8am to 9:30am (pantry)
Primitive Christian Church (Food Pantry)
207-209 East Broadway
(212) 673-7868
Last Thursday of the month 1:30 to 3:30PM
Hetrick Martin (Food Pantry)
2 Astor Place
(212) 674-2400
HMI's Food distribution:  will be from 1 pm – 3 pm on Tuesdays and Fridays, HMI will distribute food bags (and other essentials) to youth who stop by
NYS COVID RENT RELIEF PROGRAM
Overview & Eligibility
The COVID Rent Relief Program will provide eligible households with a one-time rental subsidy that will be sent directly to the household's landlord. Applicants will not need to repay this assistance. The Covid Rent Relief Program is not first come, first served. Applications will be accepted throughout the two-week application period. HCR will prioritize eligible households with "greatest economic and social need" accounting for income, rent burden, percent of income lost and risk of homelessness.
The rental assistance payment will cover the difference between the household's rent burden on March 1, 2020 and the increase in rent burden for the months the households is applying for assistance. Households can apply for up to four months in rental assistance.
Eligible households must meet the following criteria:
Before March 1, 2020 and at the time of application, household income must have been below 80% of the area median income, adjusted for household size. You can find your county's area median income, based on your household size: www.hcr.ny.gov/eligible-income-limits-80-ami-county
Before March 1, 2020 and at the time of application, the household must have been paying more than 30% of gross monthly income towards rent. Gross income includes wages as well as any cash grants, child support, social security, unemployment benefits, etc.)
Applicants must have lost income during the period of April 1, 2020 to July 31, 2020.
See our FAQs below for more information.
To apply see the application section of this page below.
HCR has created a dedicated call center to provide residents with help Monday through Saturday, 8 a.m. until 7 p.m. Call the COVID Rent Relief Program Call Center at 1-833-499-0318 or email at covidrentrelief@hcr.ny.gov
HOUSING AND HOMELESS PROVISIONS in the HEROS ACT
https://nlihc.org/resource/overview-housing-and-homeless-provisions-heroes-act
House Speaker Nancy Pelosi (D-CA) released the HEROES Act. The $3 trillion bill proposes almost $200 billion in additional funding for housing and homelessness programs to help communities respond to the coronavirus crisis.
LES READY!
Please let us know if your organization is in need of gloves, masks, gowns or have other needs. Contact us at lesready.covid19@gmail.com
NYC EMERGENCY MANAGEMENT
https://www1.nyc.gov/site/em/about/press-releases/20200718_pr_nycem_advises-new-yorkers-to-prepare-for-extreme-heat.page
NYC DEPARTMENT OF HEALTH & MENTAL HYGIENE
https://www1.nyc.gov/site/doh/covid/covid-19-main.page
To report cases of COVID-19: Call 311
NYS Dept. of Health's toll-free COVID-19 hotline: 1-888-364-3065
To report racism related to COVID-19: Call 311 and ask for Human Rights.
NYC Text Alerts
English: Text COVID to 692-692
Español: Texto con COVIDESP al 692-692
Jobs Training & Employment
Visit the Lower East Side Employment Network here, or reach out to info@lesemploy.org.
Henry Street Settlement Workforce Development Center: Click here or reach out to Director of Employment Services Lisa Tomanelli at ltomanelli@henrystreet.org
Still Hiring: Find employers still hiring during the pandemic.
Misc. Resources:
COVID-19 Pet Hotline. Emergency resources, support, and information about caring for pets during the pandemic. Call (877) 204-8821 from 8 AM to 8 PM for assistance.
American Red Cross Virtual Family Assistance Center. Crisis counseling for those dealing with grief over the death of a loved one. Fill out an intake form in English here, or in Spanish here.
NYC Domestic Violence Hotline: 1-800-621-HOPE
To receive a Mental Health Wellness Support Call from The Samaritans of New York, dial (212) 673-3661 and leave a message; they will return your call the following day at your specified time.
Other local resources include:
For non-profits and human services providers:
NYC Health + Hospitals Testing Sites in Manhattan:
NYC Health + Hospitals/Bellevue
462 First Avenue
New York, New York 10016
212-562-5555
Monday – Saturday, 7:30 a.m. – 3:30 p.m.
NYC Health + Hospitals/Gotham Health
Dyckman-Clinica de Las Americas
175 Nagle Avenue
New York, New York 10034
212-544-2001
Monday – Friday, 9 a.m. – 3:30 p.m.
No appointments necessary
NYC Health + Hospitals/Gotham Health, Gouverneur
227 Madison Street
New York, New York 10002
212-238-7897
Monday – Friday, 9 a.m. – 4 p.m.; Saturday, 9 a.m. – 2 p.m.
No appointments necessary
NYC Health + Hospitals/Harlem
506 Lenox Avenue
New York, New York 10037
212-939-1000
Monday – Friday, 8:30 a.m. – 4 p.m.
Highbridge Pool
2301 Amsterdam Avenue
New York, New York 10033
Monday – Sunday, 9 a.m. – 7 p.m.
NYC Health + Hospitals/Metropolitan
1901 First Avenue
New York, New York 10029
212-423-6262
Monday – Saturday, 9 a.m. – 3:30 p.m.
NYC Health + Hospitals/Gotham Health, Sydenham
264 West 118th Street
New York, New York 10026
212-932-6500
Monday – Friday, 9 a.m. – 3:30 p.m.
Saint Nicholas Houses
281 West 127th Street
New York, New York 10035
Monday – Friday, 9 a.m. – 3:30 p.m.
For a complete list of NYC H+H testing sites, click here.
For answers to Frequently Asked Questions, about COVID-19, click here.