EXTREME HEAT ADVISORY
CITYWIDE INSIDE CITYWIDE COOLING CENTERS
LOWER EAST SIDE LOCATED COOLING CENTERS
OUTSIDE NYC PARKS "COOL IT"
FREE COVID 19 AND ANTIBODY TESTING
FOOD PANTRIES AND SOUP KITCHENS
NYS COVID RENT RELIEF PROGRAM
HOUSING AND HOMELESS PROVISIONS in the HEROS ACT
CENSUS
RESOURCES
NYC EMERGENCY MANAGEMENT AND THE HEALTH DEPARTMENT ADVISE NEW YORKERS TO PREPARE FOR EXTREME HEAT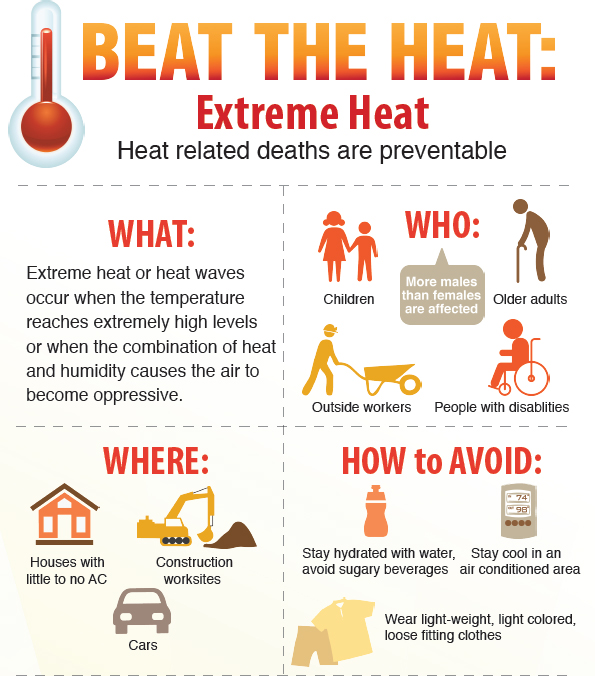 Heat related deaths and illnesses are preventable. Despite this, around 618 people in the United States are killed by extreme heat every year. This website provides helpful tips, information, and resources to help you stay safe in the extreme heat this summer.
What is Extreme Heat?
Extreme heat is defined as summertime temperatures that are much hotter and/or humid than average. Because some places are hotter than others, this depends on what's considered average for a particular location at that time of year. Humid and muggy conditions can make it seem hotter than it really is.
What Causes Heat-Related Illness?
Heat-related illnesses, like heat exhaustion or heat stroke, happen when the body is not able to properly cool itself. While the body normally cools itself by sweating, during extreme heat, this might not be enough. In these cases, a person's body temperature rises faster than it can cool itself down. This can cause damage to the brain and other vital organs.
Some factors that might increase your risk of developing a heat-related illness include:
High levels of humidity
Obesity
Fever
Dehydration
Prescription drug use
Heart disease
Mental illness
Poor circulation
Sunburn
Alcohol use
Who is Most at Risk?
Older adults, the very young, and people with mental illness and chronic diseases are at highest risk. However, even young and healthy people can be affected if they participate in strenuous physical activities during hot weather.
Summertime activity, whether on the playing field or the construction site, must be balanced with actions that help the body cool itself to prevent heat-related illness. Use this website to learn more on how to stay safe in the heat this summer, including how to prevent, recognize, and cope with heat-related illness.
CITYWIDE INSIDE PUBLIC COOLING CENTER FINDER
https://maps.nyc.gov/cooling-center/
LOWER EAST SIDE LOCATED COOLING CENTERS
PS 61, 610 E 12 St (B&C)
Grand Coalition of Seniors NSC – SENIORS ONLY, 80 Pitt St (at Rivington St)
M.S. 131, 100 Hester St (Eldridge & Chrystie)
Marta Valle High School, 145 Stanton St (Suffolk & Norfolk)
P.S. 134 Henrietta Szold, 293 East Broadway
P.S. 124 Yung Wing, 40 Division St (Market & Bowery)
OUTSIDE NYC PARKS "COOL IT"
https://www.nycgovparks.org/about/health-and-safety-guide/cool-it-nyc
Water Fountains
Spray Showers
Tree Cover
FREE COVID 19 AND ANTIBODY TESTING
CITYWIDE
MANHATTAN
6. FOOD PANTRIES AND SOUP KITCHENS
*Please call in advance to confirm hours/days
Father's Heart Ministries (pantry and soup kitchen)
545 East 11th Street
212-375-1765
Saturdays 8:30AM to 11AM
The Meatloaf Kitchen (soup kitchen)
137 2nd Street
Doing breakfast from 9am to 11am and lunch from 12:30pm to 2:30pm. (3/20)
St. Joseph House (soup kitchen)
36 East 1st Street
(212) 254-1640
Soup kitchen: Monday – Friday: 9:30am – 11:00 am.
Trinity Church Lower East Side (soup kitchen and food pantry)
602 East 9th Street
Mondays through Fridays 11:00 AM – 12:00 PM (soup kitchen)
Monday – Friday 12:30 PM – 1:30 PM (Food Pantry) – Appointment Needed
Temple Soup Kitchen
33 East 12th Street
Saturdays from 2:30 pm and 4:00pm
The Bowery Mission (soup kitchen)
227 Bowery
Serving meals 3 times a day. To-go breakfast 9 to 10am, lunch 1 to 2pm and, dinner 6-7pm
Nazareth Housing (food pantry)
206 East 4th St. (blue door)
212-777-1010
Tuesdays at 10AM
Most Holy Redeemer Church (Food pantry)
173 E 3rd St
(212) 673-4224
Every other Wednesday 10a to 11a
Dewitt Church (food pantry)
280 Rivington St
(212) 674-3341
Mondays and Thursdays 10:00am – 1:00pm
Interfaith Church
325 East 5th St
(352) 213-9020
Middle Collegiate Church (Food pantry and soup kitchen)
50 E 7th Street
(212) 477-0666
Wednesdays 8am to 9:30am (pantry)
Primitive Christian Church (Food Pantry)
207-209 East Broadway
(212)673-7868
Last Thursday of the month 1:30 to 3:30PM
Hetrick Martin (Food Pantry)
2 Astor Place
(212) 674-2400
HMI's Food distribution: will be from 1 pm – 3 pm on Tuesdays and Fridays, HMI will distribute food bags (and other essentials) to youth who stop by
NYS COVID RENT RELIEF PROGRAM
Overview & Eligibility
The COVID Rent Relief Program will provide eligible households with a one-time rental subsidy that will be sent directly to the household's landlord. Applicants will not need to repay this assistance. The Covid Rent Relief Program is not first come, first served. Applications will be accepted throughout the two-week application period. HCR will prioritize eligible households with "greatest economic and social need" accounting for income, rent burden, percent of income lost and risk of homelessness.
The rental assistance payment will cover the difference between the household's rent burden on March 1, 2020 and the increase in rent burden for the months the households is applying for assistance. Households can apply for up to four months in rental assistance.
Eligible households must meet the following criteria:
Before March 1, 2020 and at the time of application, household income must have been below 80% of the area median income, adjusted for household size. You can find your county's area median income, based on your household size: www.hcr.ny.gov/eligible-income-limits-80-ami-county
Before March 1, 2020 and at the time of application, the household must have been paying more than 30% of gross monthly income towards rent. Gross income includes wages as well as any cash grants, child support, social security, unemployment benefits, etc.)
Applicants must have lost income during the period of April 1, 2020 to July 31, 2020.
See our FAQs below for more information.
To apply see the application section of this page below.
HCR has created a dedicated call center to provide residents with help Monday through Saturday, 8 a.m. until 7 p.m. Call the COVID Rent Relief Program Call Center at 1-833-499-0318 or email at covidrentrelief@hcr.ny.gov
HOUSING AND HOMELESS PROVISIONS in the HEROS ACT
https://nlihc.org/resource/overview-housing-and-homeless-provisions-heroes-act
House Speaker Nancy Pelosi (D-CA) released the HEROES Act. The $3 trillion bill proposes almost $200 billion in additional funding for housing and homelessness programs to help communities respond to the coronavirus crisis.
CENSUS – PLEASE FILL IT OUT!
https://www1.nyc.gov/site/census/index.page
The 2020 Census is here — and it will shape New York City's future for years to come. Once every ten years, the United States Census takes a count of every person in the United States. The taking of the census is mandated by the United States Constitution and has occurred every 10 years since 1790. But the census is so much more than just a count. Census information is used to determine New York City's fair share of billions of dollars in federal funds for public education, affordable housing, infrastructure, and more — as well as the number of seats we have in Congress. Because so much is at stake, it's critical that New Yorkers stand up and be counted in the 2020 Census.In the 2010 Census, the city's self-response rate was less than 62%, compared to the national average of 76%. We need every New Yorker to get involved to ensure that their community is counted next year.
RESOURCES
LES READY!
Please let us know if your organization is in need of gloves, masks, gowns or have other needs. Contact us at lesready.covid19@gmail.com
NYC EMERGENCY MANAGEMENT
https://www1.nyc.gov/site/em/about/press-releases/20200718_pr_nycem_advises-new-yorkers-to-prepare-for-extreme-heat.page
NYC DEPARTMENT OF HEALTH & MENTAL HYGIENE